A Multi-Purpose Cleaner with a Fabulous Lavender Fragrance.
Do you need an all purpose cleaner that effectively cleans dirt and grime, but is safe for modern surfaces? Get JAWS Multi-Purpose Cleaner!
JAWS® (Just Add Water System™) Multi-Purpose Cleaner is a powerful, cleaner that is tough on dirt, but gentle on household surfaces.   Wipe away dirt and grime from a variety of indoor and outdoor surfaces including, stainless steel, plastic, quartz, linoleum and laminate floors, automotive surfaces, and lawn and garden equipment. This fast-acting, lavender scented cleaner will leave surfaces streak-free and smelling great!   
Plus, it's easy to use. Simply refill the spray bottle with water, reload the cleaning concentrate, and reuse the bottle, over and over again.  With JAWS refill pods, you'll save money and reduce plastics in landfills. 
The JAWS Multi-Purpose Cleaner is EPA Safer Choice Certified.
THE ORIGINAL REFILL POD CLEANING SYSTEM: Our technology has saved over 40 million bottles from landfills!
JUST ADD WATER: Fill the JAWS Reusable Bottle with water, insert the JAWS Refill Pod and apply the trigger sprayer to release concentrate.
CHILD-RESISTANT REFILLS: Includes 2 Refill Pods of our Multi-Purpose Cleaner.
VERSATILE CLEANING: Works great on appliances, counter-tops, stainless steel, plastic, quartz, linoleum and laminate floors, automotive surfaces, lawn and garden equipment and so much more!
ECO-FRIENDLY CLEANING SYSTEM: JAWS Refillable Spray Bottles and Refills reduce plastic waste by 83% vs traditional spray bottles.
LIGHTLY SCENTED: A fabulous lavender fragrance.
Order JAWS Multi-Purpose Cleaner
* Refill pods are patented and work with JAWS bottles only.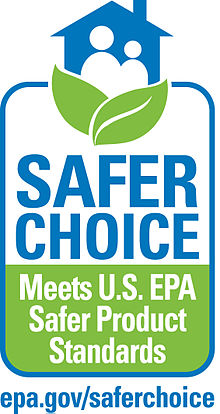 Where To Use Multi-Purpose Cleaner
All JAWS products are safe for hard surfaces not harmed by water. Compare all JAWS products to find the one that fits your needs!
Appliance exteriors
Appliance interiors
Bamboo flooring
Bathroom fixtures
Cabinets
Ceramic tile
Chrome
Concrete
Countertops (Corian®, Formica®, granite, laminate)
Desks
Doorknobs
Exercise equipment
Exercise mats
Fiberglass
Garbage cans
Glazed ceramic
Glazed tiles
Grills and barbeques
Grout
Laminate flooring
Laminates
Linoleum
Lucite®/Lexan®
Marble
Non-food contact areas
Outdoor furniture
Plastic
Plexiglas®
Porcelain tile
Quarry tile
Quartz
Range hoods
Recreational vehicles
Restroom fixtures
Sealed fiberglass
Sealed granite
Sealed marble
Sealed wood surfaces
Shower curtains
Shower doors
Shower walls
Sinks
Stainless steel
Stone
Stovetops
Tables
Terazzo
Toilets and tubs
Urinals
Vinyl
Walls
Wash basins
Washable non-porous surfaces
Wooden Flooring
Please Note: Do not use Daily Shower or Bathroom Cleaner on marble or natural stone
Directions
Pretest on surface prior to use. Do not use if discoloration or damage occurs. Lightly spray surface from 6 - 8 inches from surfaces and then wipe clean; let it sit on surface for tougher spills if necessary.  Rinse food surfaces after use.  Note:  Pretest on painted surfaces in small inconspicuous areas for color fastness.
Ingredients
Refill. Reload. Reuse.
When your first JAWS spray bottle is empty, you simply refill, reload, and reuse!
1. Refill
Fill your reusable bottle with tap water.

2. Reload
Pop in a new JAWS refill pod.

3. Reuse
Twist the sprayer back on and go!